Win Tickets SEP 21-23: Outside In EQUINOX Festival / Santa Barbara
Written by groove on 21 August 2018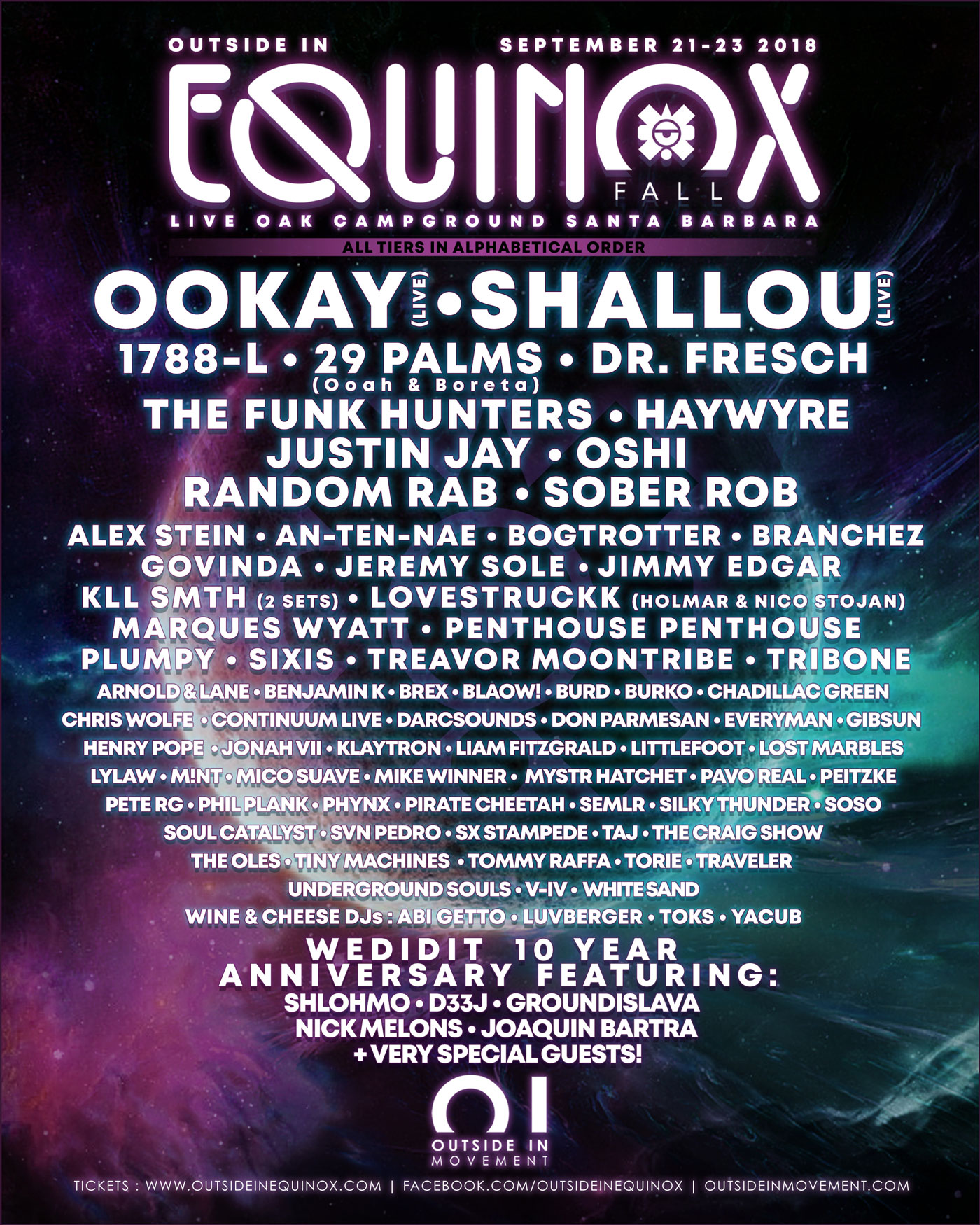 Enter below to win a 3-Day Festival Pass with camping for you and a friend for Outside In EQUINOX Fall 2018 in Santa Barbara, CA– courtesy of Groove Radio!
Outside In Equinox is a communal 3-day camping experience ushering in the Autumn season through the exploration, discovery & celebration of technology and the evolving human experience. With daily topics and themes ranging from decentralized blockchain technology, to virtual reality & AI, to alternative healing & ET Disclosure, attendees will embark on a journey of their choosing and go as deep as they desire while they explore the many thematic sections and interactive installations within the festival. Engage renowned experts in their field up close, attend workshops and explore new technologies while surrounded by the serene, natural beauty of the Santa Barbara Mountains. 
Line-up:
Ookay – Shallou – 1788-L – 29 Palms – Dr. Fresch – The Funk Hunters – Haywyre – Justin Jay – Oshi – Random Rab – Sober Rob – Alex Stein – An-ten-nae – Bogtrotter – Branchez – Govinda – Jeremy Sole – Jimmy Edgar – Kll Smth – Lovestruckk – Marques Wyatt – Penthouse Penthouse – Plumpy – Sixis – Treavor Moontribe – Tibone – Traveler – and many more! 
Event takes place at Live Oak Campground, 4600 CA-154, Santa Barbara, CA 93105 on Fri Sep 21 – Sun Sep 23, 2018.  Full info available on event website:  OutsideInEquinox.com
**IMPORTANT** You must be 18 or over with valid I.D. to attend.  No transportation included.  
Contest entries must be submitted by Thu Sep 13 at 6pm PT. Good luck!
Here's a direct link to buy tickets.
—
This contest is now closed.  Congratulations to our winners!
---