At the end of May front man of Dash Berlin, Jeff Sutorius, announced he would not be able to perform at A State Of Trance for health reasons. Unfortunately, the massive trance event in Poland was only the beginning. Just one month later, it was announced that Dash would not be making an appearance at Chicago's Spring Awakening in early June as well. The cancellations were said to be due to heath problems, but Jeff recently released a statement revealing that he had severed ties with partners, Eelke Kalberg and Sebastiaan Molijn, and management, Vanderkleij Agency. His statement makes it clear; more factors were in play behind the scenes. See the full statement below:
"Through this statement I inform you that at the end of May I severed my ties with Vanderkleij Agency, Sebastiaan Molijn and Eelke Kalberg (booker and management of Dash Berlin). The reason for ending the relationship is mismanagement in the past several years and neglecting my interests. I recently found out that Molijn and Kalberg together with Vanderkleij Agency registered the name 'Dash Berlin' in their own name. I did not realize that as such it might not be possible for me to perform under my Dash Berlin name. I requested my lawyers to put this matter before the court, so that this matter can be resolved. All this has had a negative influence on my health, and I was advised to take it easy. I would have preferred to announce this through my own social media channels. However, after ending the relationship my access to the social media accounts was blocked. I hope that all this can be settled quickly and that I can continue to perform. I love my fans and I hope they will understand."

– Jeff Sutorius (Dash Berlin)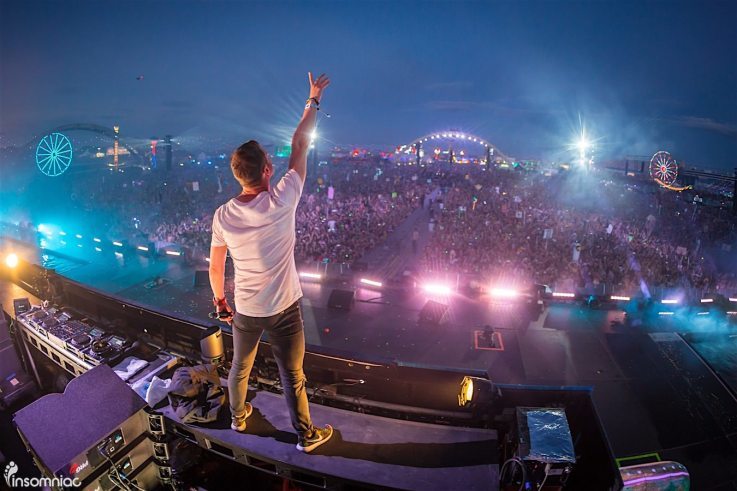 (Photo by Insomniac)
After years of life on the road as the frontman of Dash Berlin, it's no surprise that Jeff's health is affected. As the face of Dash Berlin, it was Jeff who was obligated to travel across the globe playing shows and building the loyal Dash Berlin fan based dubbed Dashers. This year's EDCLV schedule was jam packed including 2 sets at the festival and an EDC Week performance at the Marquee, after which Jeff was whisked off to Mexico to play yet another show. Without a good team with his best interests in mind, it was only a matter of time before the DJ lifestyle would take it's toll.
Jeff has headlined many festivals and built the Dash Berlin legacy. Though it isn't a secret that Dash Berlin is actually a trio, it wasn't highly publicized, and the name is certainly synonymous with Jeff's image. It's unfortunate that the future of Dash Berlin os uncertain, and shocking that someone who is the figurehead of the brand would be left out by his partners and agency.
We hope this is resolved quickly and amicably, and wish Jeff the best in all of his future endeavors. Dash Berlin will never be Dash Berlin without him.
---