Decadence Colorado is the Party of the (New) Year
Written by Derek Lavezzo on 20 December 2018
If you're looking for the premiere prevalent party for New Years in the United States, look no further than Decadence Colorado.
From the moment the first few artists on the lineup dropped, Decadence Colorado has been touted as one of the most highly anticipated festivals not just for New Years, but across the entire year in general.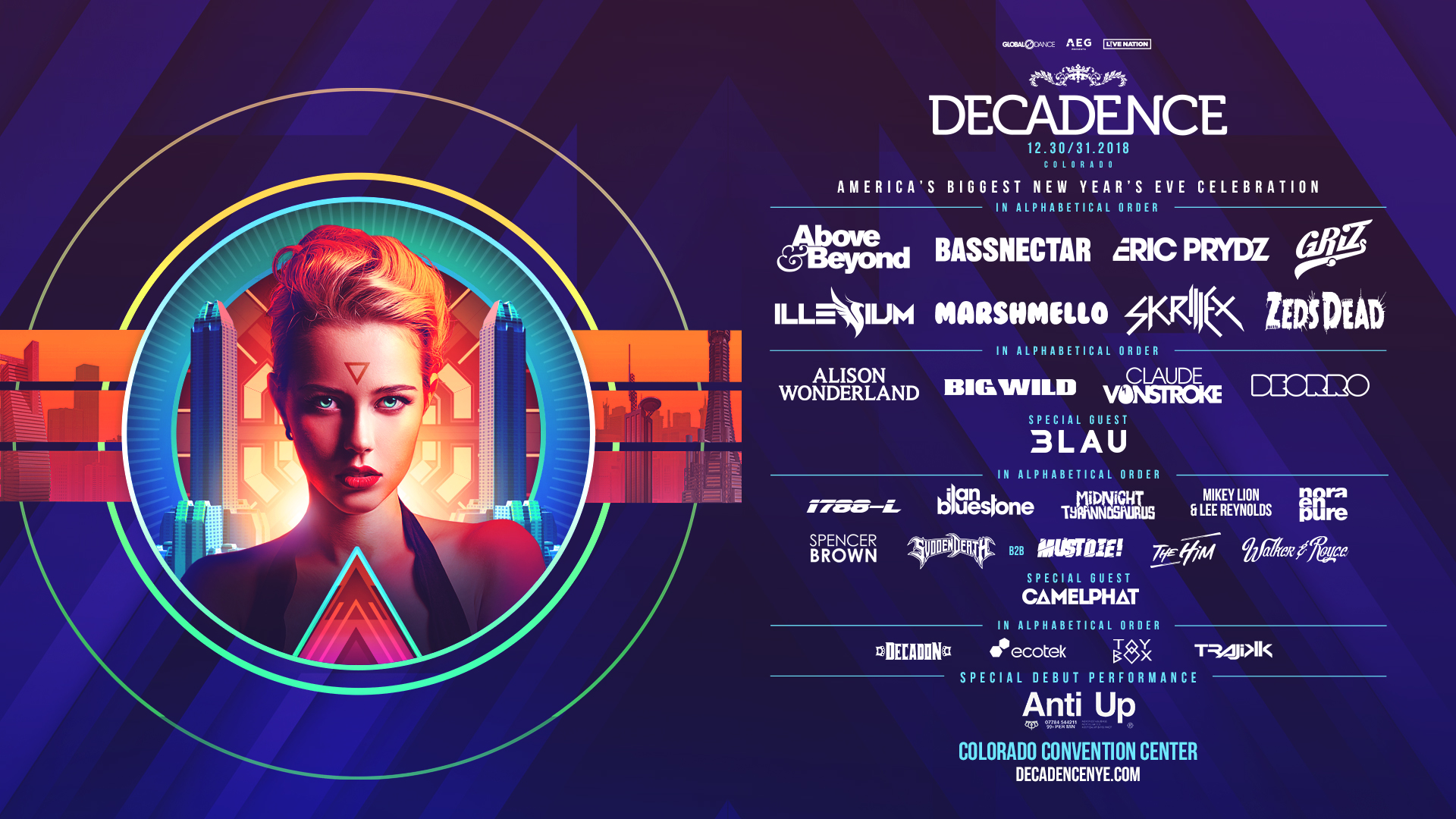 Highlighted by the grand return of the legendary Skrillex, who's dormant production and performance schedule over the last calendar year-plus has left fans itching for his awakening from hibernation, Decadence Colorado has put together an extravagant lineup that hits just about every wavelength on the EDM spectrum.
A stacked first day will kick off the festival in a white-hot blaze; the aforementioned Skrillex will be joined by some heavy hitters on December 30. The thought of fellow legend Eric Prdyz gracing the stage the same night leaves many salivating at the initial day. Alison Wonderland, Zeds Dead, Bassnectar, 1788-L, Above & Beyond, Claude VonStroke, and more will round out an action-packed day one.
The second day of Decadence Colorado is certainly no slouch, though. Fresh off his legendary Red Rocks show in September, Illenium returns to Denver to put on what is sure to be an epic ringing in of the New Year. Marshmello, hot off the heels of a ferocious 2018 campaign that saw him skyrocket into mainstream superstardom, will also be lighting up the New Years celebration. What So Not, Griz, Big Wild, 3lau, Deorro, and a Svdden Death b2b Must Die! are just a small collection of the madness that will ensue on December 31.
Needless to say, the Colorado Convention Center is going to be off the chain in a major way and ending 2018 in perfect fashion. Arguably THE place to be for New Years, Decadence Colorado is bound to be a two-night gala of mythical proportions that you do not want to miss.
Snag your tickets now, so the FOMO isn't too real to ring in 2019; that just sounds like a terrible way to start a brand new year.
---