Global Dance Festival 2018 Brought the Heat
Written by Derek Lavezzo on 22 July 2018
I've been out of the festival game for a little bit now. I was going on roughly a year and a half without escaping into the effervescent wonderland of a music festival and the itch to return was becoming too much to not scratch. Blame finances, blame an impending cross-country move, blame a lack of a festival family, the hallowed grounds of a music festival had escaped me for far too long.
So, upon my move to Denver, that itch was bound to be scratched sooner rather than later. And in a spur of the moment decision, I found myself in possession of a Saturday pass to Global Dance Festival just a hop, skip, and Lyft ride away from my apartment.
This was my very first solo festival experience. I was timid and unsure, especially being away for so long, but the lust for live music overpowered those insecurities, and I found myself outside of Sports Authority Field at Mile High for what ended up being a fantastic night.
The location and layout were quite ideal, nothing too spread out and all stages in easy walking distance from one another. The weather was a bit warm and cloudy with some sprinkles, but it sure beat the projected 96 degrees and sunshine. There were water stations aplenty, friendly staff, multiple food and drink options, and a diverse lineup bringing in some of the biggest names from EDM and hip hop.
My day started wandering the grounds, exploring and familiarizing myself with the various stages and mapping out where I wanted to be and when. Jaykode brought the fire to start my journey, and his intensity merely set the tone for the rest of my time at Global Dance Festival.
My most anticipated set (and obviously most others as the festival was flooded with Illenium attire) was the Illenium B2B Said The Sky masterpiece that toed the line between feelsy and hard so beautifully it was hard not to find yourself swept up in the moment. From announcing Said The Sky as an opener for his Red Rocks set next month, to debuting an enthralling new ID, to both artists going back and forth with their hits, this was truly a memorable set.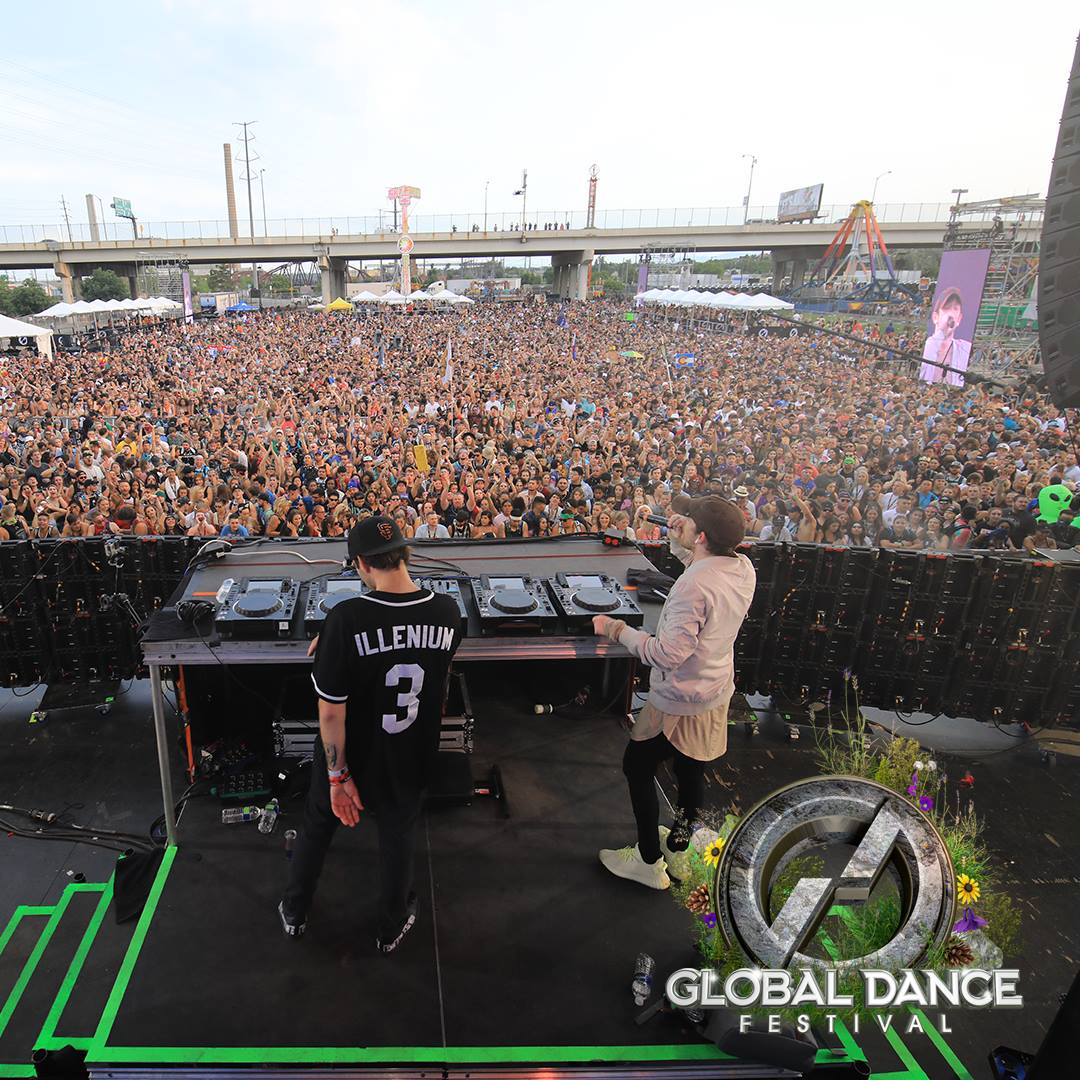 Photo Courtesy of Global Dance Festival
I found myself bouncing between multiple artists (and the food truck line) from there on out. Riot Ten and Terravita dropped bombs at the Northern Lights Stage, Flux Pavilion and Doctor P went b2b at the mainstage and brought the heavy that shook the crowd to its core, Lady Faith brought a different groove at the Amazon Stage that seemed perfect to keep the energy up but the vibe more mellow than her heavy counterparts, and Savoy brought their live music flare that left everyone buzzing.
I ended my night with Adventure Club, choosing them over the mainstage Tiesto. My original plan was to split my time between AC and Gorgon City, but once Adventure Club got started there was no going back. From the word go they brought a fire and intensity that was unmatched, ebbing and flowing with a wide variety of their hits and others, oohing and awing the crowd with every drop. It was intense in the grandest of ways and left this guy and many others in magical disarray by the time they closed with "Crave You".
Overall, though I only experienced one day, Global Dance Festival was a success. The lineup matched the desires of many across the board, along with a simple and effective layout and great staff. I would not be surprised to find myself back next Summer, and I would suggest you be there, too.
---