Secret_Project: Preserving The Avant-Garde and Esoteric Strains of Electronic Music
Written by groove on 5 October 2018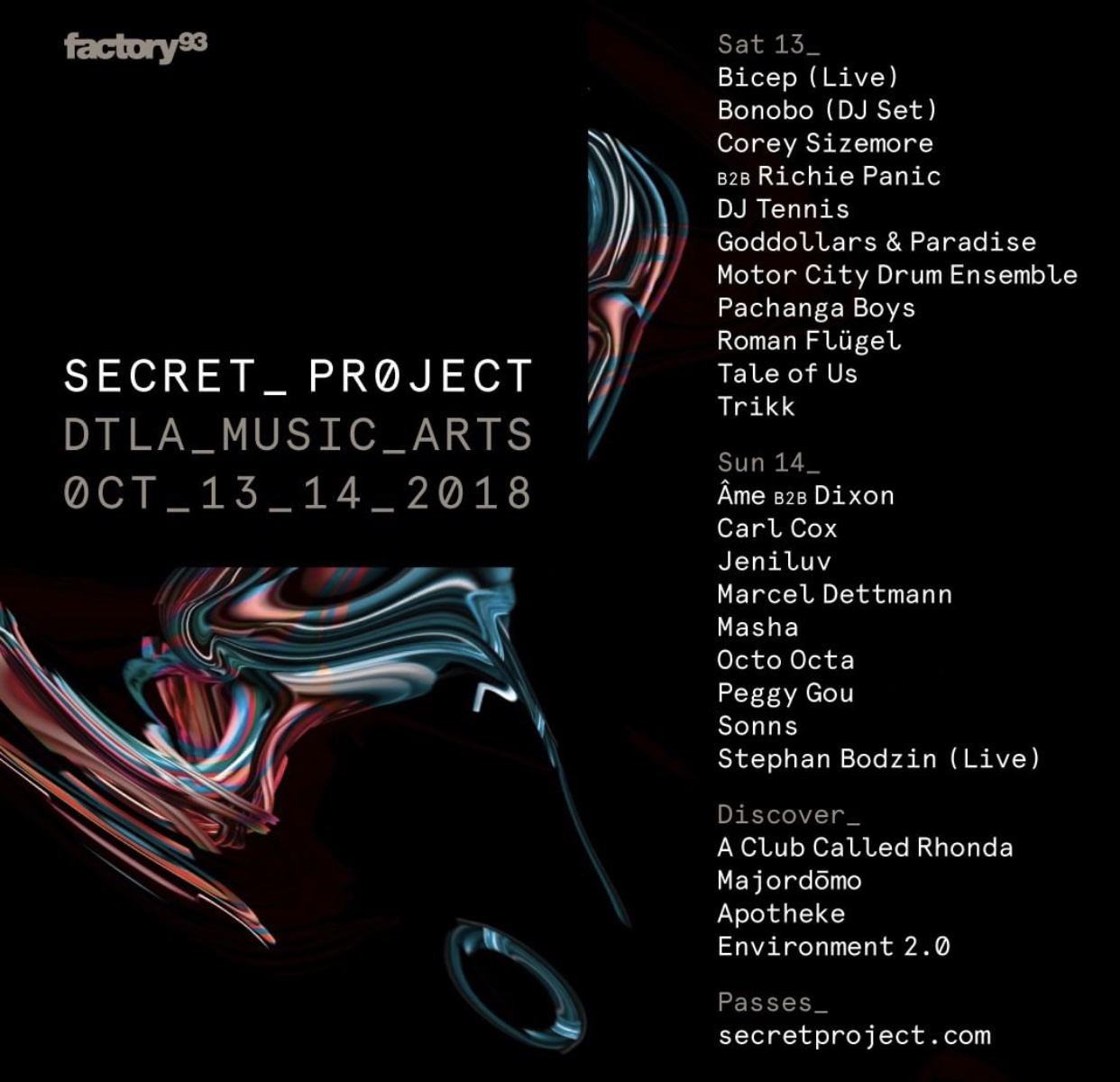 Dedicated to presenting and preserving the avant-garde and esoteric strains of electronic music, in the unique, outdoor setting of Downtown Los Angeles, Secret Project makes its debut Oct. 13-14, with a stacked lineup : Ame b2b Dixon, Bicep, Bonobo, Carl Cox, Corey Sizemore b2b Richie Panic, DJ Tennis, Goddollars & Paradise, Jeniluv, Marcel Dettmann, Masha, Motor City Drum Ensemble, Octo Octa, Pachanga Boys, Peggy Gou, Roman Flügel, Sonns, Stephan Bodzin (live), Tale of Us, and Trikk.
Factory 93 will also be bringing some unique experiences to the art-filled space, partnering with Club Called Rhonda, get ready for a groovy weekend of music and chill vibes.
If you want to take your Secret Project experience to the next level, VIP is a must!
Have you been waiting for a reservation at Majordōmo by David Chang? Well, this weekend at Secret Project he will be serving food inspired by the culinary traditions and seasonality of California this weekend. VIP passes will include:
Custom menu designed by the Majordōmo culinary team (1 meal per person included)
Private cocktail bar (1 complimentary drink per person)
Private restrooms
Long known among New Yorkers for its apothecary-themed craft cocktails, Apothéke will be pouring their wellness-minded botanical infusions in the VIP area.
Specialty craft cocktails
Shaded outdoor bar
Comfortable viewing area at Stage 2
Private restrooms
Plus More
Expedited festival entry
Onstage viewing areas at both stages (subject to capacity)
Private bar and shaded areas at Stage 1 viewing area
VIP restrooms behind each stage
Access to Majordōmo & Apothéke via secret pathway
Discover Naude Street with Secret Project Oct. 13-14, see you guys there and check out the trailer below.
For more info and tickets head over to www.secretproject.com!
---