30 Year Tribute to Mars FM
Written by groove on 22 May 2021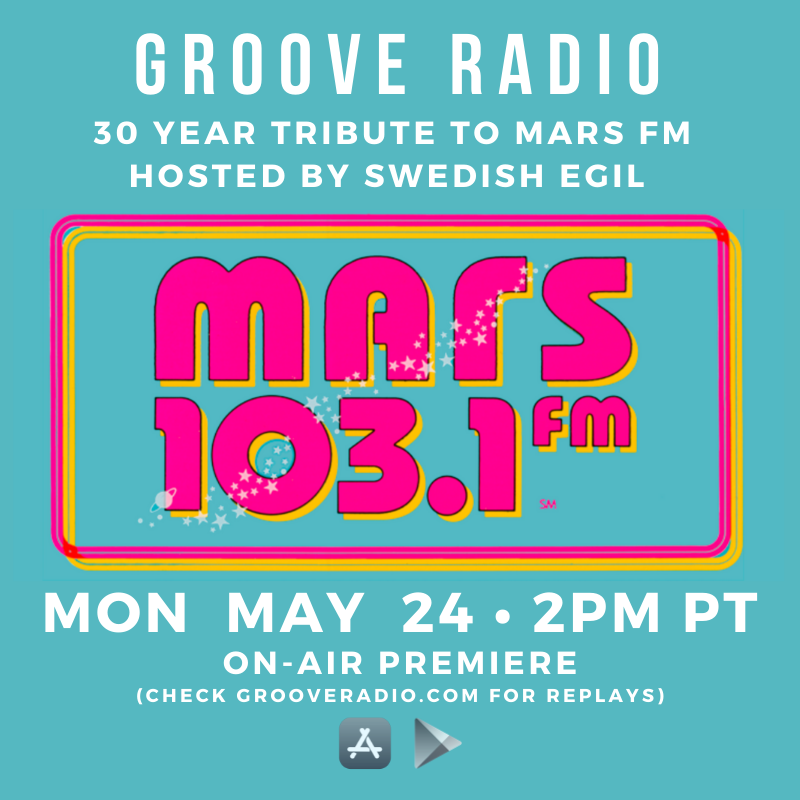 WHEN:
Mon May 24, 2021 (2:00pm PT)
Replays:
Mon May 24 – 8:00pm PT
Tue May 25– 9:00am PT
Wed May 26 – 1:00amPT
Thu May 27– 4:00pm PT
Fri May 28 – 11:00am PT
Sat May 29 – 2:00pm PT
Sun May 30 – 6:00pm PT
WHAT:
Join station founder Swedish Egil for a 30-Year Tribute to MARS-FM – the ground-breaking Los Angeles radio station that blended Alternative, Dance, Rock and Pop music – breaking many new artists during its brief time on the air from 1991 – 1992 including MOBY, THE PRODIGY, THE ORB, and many more. Egil credits his time as Music Director on MARS-FM for leading him to launch his GROOVE RADIO format in 1992.
DURATION:
25 min
WHERE:
Tune-in from any smart phone or computer on the planet – just download our free app from your App Store or Google Play or click "Listen" on the menu of any page at GrooveRadio.com to launch our pop-up player. Groove Radio listening is also available on TuneIn and other radio guides – also on apps found on your smart TV or Roku.
INFO:
Click here to READ the Los Angeles Times article about the end of MARS FM in August 1992.
Jump to Freddy Snakeskin's page about MARS FM with audio links.
Click below to LISTEN/WATCH the entire MARS FM Top 103.1 video playlist on our YouTube page.
---