Thu Dec 6 (2pm-6pm PT): 15 Year HOLIDAY GROOVE (LIVE ON-AIR)
Written by groove on 6 December 2018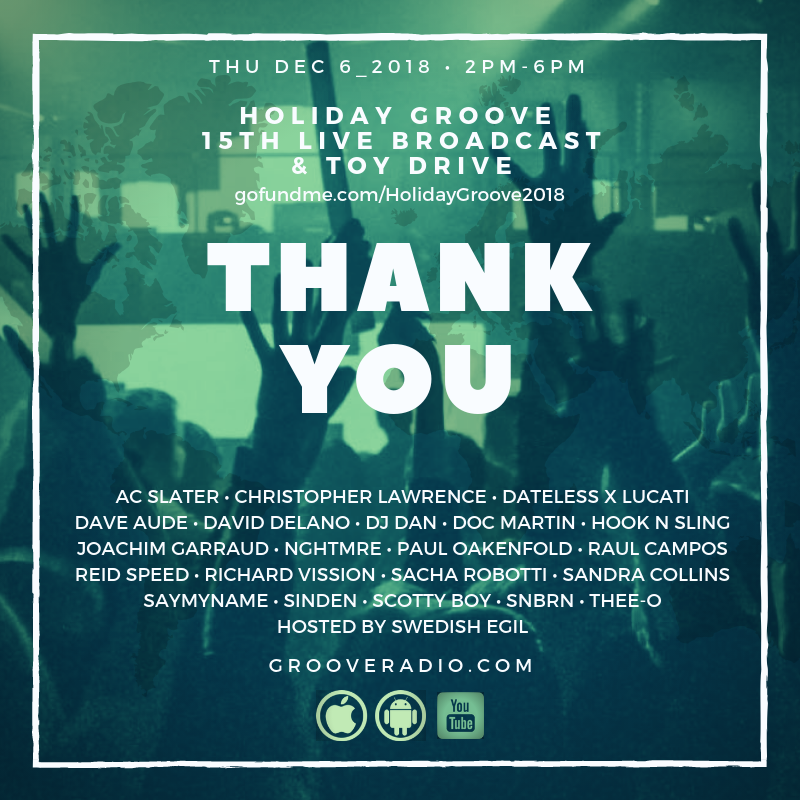 WHEN:
Thu Dec 6, 2018 (02:00pm until 06:00pm PT)
WHAT:
Groove Radio presents our 15thAnnual HOLIDAY GROOVE 2018 broadcast – hosted by Swedish Egil –LIVE from our studios in #DTLA! 
(featuring in alphabetical order)
AC Slater
Christopher Lawrence
Dateless x Lucati
Dave Aude
David Delano
Doc Martin
DJ Dan
Hook N Sling
Joachim Garraud
NGHTMRE
Paul Oakenfold
Raul Campos
Reid Speed
Richard Vission
Sacha Robotti
Sandra Collins
SayMyName
ScottyBoy
Sinden
SNBRN
Thee-O
Brought to you by Pioneer DJ and Electronic Music Alliance!
DURATION:
4 hours
WHERE:
Missed this program? Click "Watch Back" on the menu of any page at grooveradio.com to view a listing of recent shows.  Or just click here.
INFO:
This on-air event brings together L.A.'s Electronic Dance Music community to support the "Spark of Love Toy Drive" by ABC7 and Southern California Firefighters.  GoFundMe has provided Holiday Groove a way for our listeners to donate directly to the California Community Foundation (CCF), the creator of the Spark of Love Toy Drive Fund.  Help us meet our goal on their behalf by making a secure, tax-deductible donation online with 100% of your donation going directly to the CCF certified charity. 
Donations can be made here through Dec 31, 2018: gofundme.com/HolidayGroove2018
Let's make our Holiday Groove 2018 our best year yet!  
---